Former Real Housewives of Beverly Hills cast member Teddi Mellencamp, is defending her decision to continue to speak publicly about her close friend, Kyle Richards', fractured relationship with older sister and costar, Kathy Hilton, despite Kyle's objections.
On Friday, October 8th, Teddi took to social media to claim that she has no control over what she is "paid to talk about" and doesn't have the "luxury to pick and choose" what topics are discussed.
In a twitter post she shared screenshots of her Instagram story in which she stated, "If I had the option to not talk about @KathyHilton I would not. The aftermath is not worth it." She said before continuing, "Out of respect to @KyleRichards18 I know family comes first and it's her wishes I did not."
But Teddi doubled down on her stance saying that it's her job to cover such topics and it's what her "contract requires." She also said that anything she's covered has already been publicly reported on or shown on television.
"I will continue to be honest with how I feel about everything that plays out on all Housewife franchises," she said.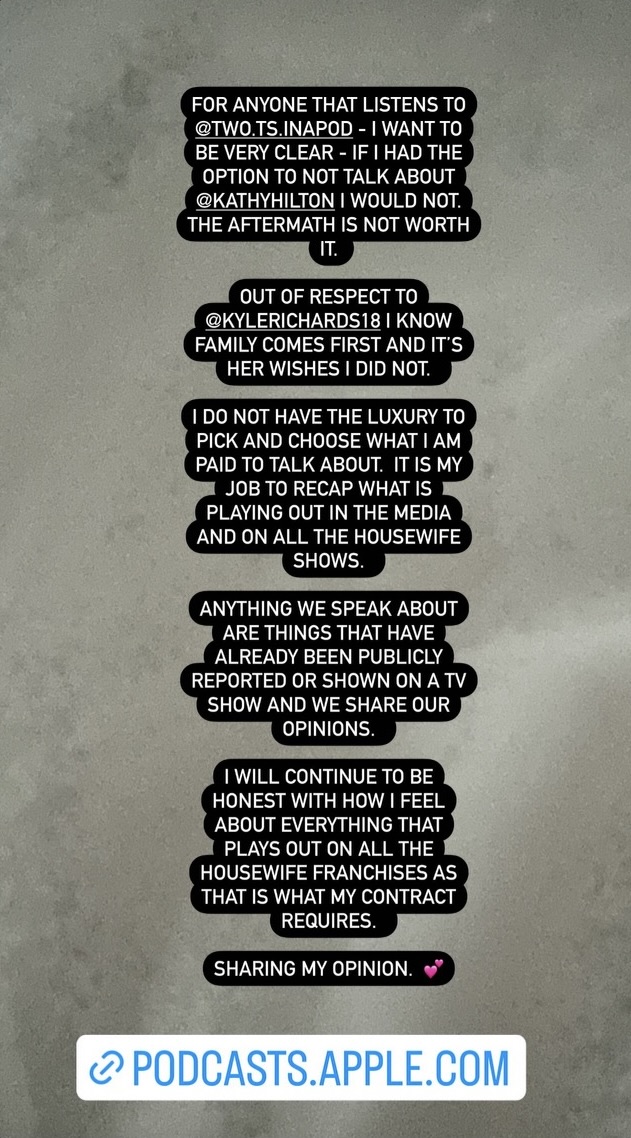 However, many RHOBH viewers aren't buying what Teddi's selling.
One twitter user replied, "You said out of respect for Kyle you would STOP talking about, yet here you are STILL TALKING about it! Just stop. And don't respond telling me to unfollow you because I don't follow you anyway, but your posts show up in my feed because of the subject matter. Let it go & move on."
While another agreed, "Funny thing is that you actually have a choice. Your life is not going to crumble down if you lose this little podcast. You can stand your ground and respect your friend's wishes. But is obvious that money and fame are more important than friendship and loyalty. How sad!"
But if there was any doubt on whose side Teddi's on, she made it abundantly clear in a second Instagram post calling out Kathy after she slammed Kyle in the comments section of podcaster, Christian Gray Snow's, post showing concern for Kyle.
Captioning his post, "I'm so worried about why Kyle is so upset," Kathy jumped into the conversation commenting, "Why is she upset and crying? I'm the one who was bullied and persecuted for 10 months! Just cruel and disgusting."
Teddi took a screenshot of Kathy's comment and said, "This right here is the exact reason she continues to be discussed."
"The entire thing is very sad as it [is] clear to me that she [Kyle] is crying because she is trying to protect and keep her family together," Teddi concluded.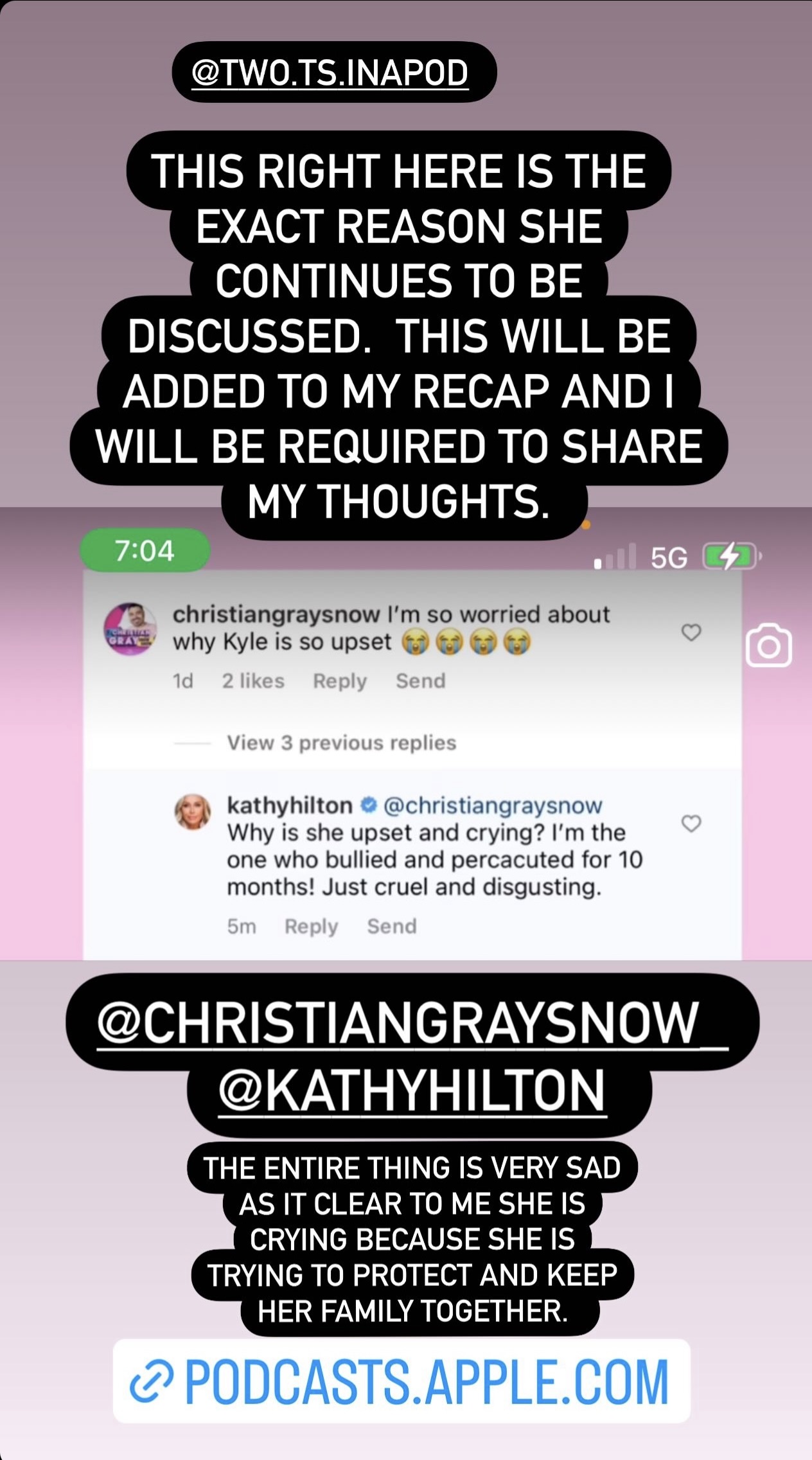 Kathy nor Kyle have publicly commented on Teddi's posts.